A fine day in May, what to do?  I love trouting this time of year, the streams and the woods are alive with all kinds of life.  The contrast between the streams when I start out in March and what they look like now is amazing.  Looks like someone was turned loose with a green paintbrush, with a few yellow, white, and purple accents.  Trouble is, the really good streams will be crowded today, both with anglers AND kayakers.  [I have a pretty good rant against kayakers building up, but I'm going to save it for another time]
With all my years on the streams, you can be sure I have built up a few secret spots.  One such secret spot is where I pointed my truck on Sunday.  This stream is known for marginal water quality, and plenty of non-trout species, but at least it is not on most anglers' radar.  I have fished this stream on and off for many years, and know the subtle nuances of its waters. On the popular "name-brand" streams around here, [you know, the ones that start with "R" or "K"] every likely spot probably has a dozen or more fish in it, and it is easy to find a lot of fish.  But this creek is a place where you had better plan on covering a lot of water, as there just isn't a high trout population here.  If you like to fish light rods, small flies, or only cast to rising trout, well there's a reason not many people fish here.  I use a 5 or six weight, and plan on fishing beefy nymphs or oversize streamers.
As usual, I was greeted by a cacophony of songbirds when I got to the parking spot, but no other anglers.  I headed up the trail for a bit, and dropped in to an old favorite spot.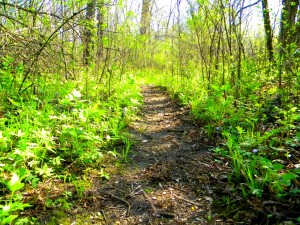 There was a nice caddis hatch coming off, but the only thing eating them were American Redstarts and other warblers.  No fish hooked at my first spot, or the next.  The third spot I dropped into is one of the best on the creek, but after 30 or 40 drifts without a fish, I was starting to think this would be a day best suited for taking pictures.  Then it happened–BAM! My indicator when down and a fat foot long trout came flying out of the water.  Two cast later I had his twin hooked up.
And so the day went, lots of spots gave up no trout, but I covered enough water to end up with a decent box score.
Quite of few of these: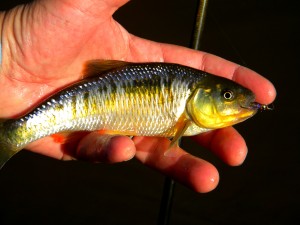 I couldn't believe how many of these were along the path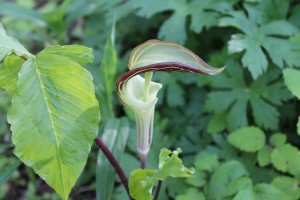 And I even caught a few of these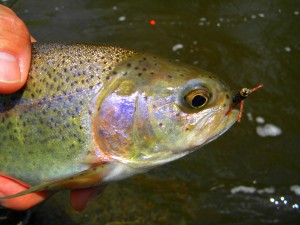 Could resist this shot when I took the high trail back up the river valley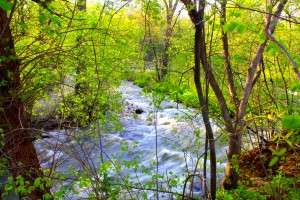 None of the fish I brought to hand were particularly large, although I did lose one that made me say a bad word when it came off after I saw how big it was!   I've had days when far more and much larger trout were caught, but this was just a great day on the water–I only had to share it with the songbirds and a mink!  I might make it out for trout once more this year, but this is when my attention starts shifting to the lakes and larger rivers for bass and muskies.