Most of the time if I go camping it is because of necessity, not just because camping is so much damn fun.  I may camp out because there just happens to be a campsite where I'm fishing, or maybe I spent too much money on tackle and can't come up with the funds for a cheap motel.  Or maybe a little of both.  The fact that I've spent the last few months selling my girls on a camping trip tells me that I must like it at least a little bit.
Like most parents, I want my kids to like what I like, and if I bribe them to play along, does that make me a bad parent?  If so, better get CPS on the phone, because a day of fishing with dad is likely to end with a stop for ice cream.  But a camping trip was going to need an extra special level of bribery.
As it turns out, Savannah did go on a camping trip with me two summers ago.  It was touch and go for a while when a seriously bad storm rolled through our campsite on the shores of a remote lake.  It really was bad, but we made it through it OK, just a little soggy.  Savannah still gets nervous thinking about that storm.  On our way home, we stopped in Royalton at one of Minnesota's best known tourist traps and I let her pick something off their crowded shelves of treasures.
We drive by this store every time we go to Grandma's house, and Savannah will generally remind Skylar of how she got to stop there, how great it was inside there, and don't you wish you could go there.  So my bait to get them to go camping included a stop at Treasure City.  It so happens that there is a nice campground on the river right there, so plans were made, and on a fine July morning we pulled into the Sportsman's Club Campground.
Since this was midweek, I wasn't too surprised to find a lot of empty campsites, so we chose a site right on the river near the boat launch.  A nice breeze coming off the river assured the mosquitos would stay away, and we had our tent set up in ten minutes.
My camping gear consists of a tent, sleeping bag, a lantern, a folding chair, and an axe, so I'm faring a little better than the folks on "Naked and Afraid".  I don't have any camp cooking stuff, most of what cook in camp involves either aluminum foil or a stick.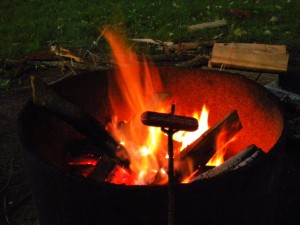 Hot dogs are far from being a favorite food, but I like to keep it simple, less time cooking = less time cleaning = more time doing other stuff, like fishing or relaxing around a campfire.
So camp is set, boat is launched, and we're now heading upriver.  This is a section of the Mississippi I had only been on once before, my memory of it was good fishing, but shallow and pretty treacherous for a prop boat.  The other time I was here I ended up having to walk the boat up through a particularly shallow stretch around some islands, and after studying the area on Google Earth I decided that a different channel would allow for easier passage.  Wrong.  I have often been in the predicament of trying to get through too-shallow water, when faced with this I will have my boat partner get all the way up to the bow—this will raise the transom up, giving a little more clearance.  On this trip my boat partners weigh about a hundred pounds between them, so not much help there.  Ended up having to walk the boat up though about 100 yards of knee deep water again, and dinged my prop a few times when I was trying to push my luck.  They did offer words of encouragement as I muled the Jon boat up through the shallow riffle.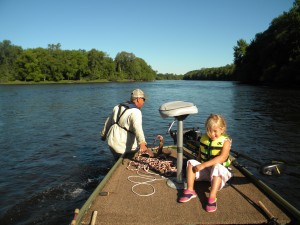 Besides catching smallmouth, we have one other activity:  this section of the Mississippi is one of a few places on the entire earth where a special kind of stone called a "staurolite" is found.  These are also called "Fairy Stones" or "Fairy Crosses" and you can bet I talked these up to the girls who are all about anything that has to do with fairies.  A perfect fairy stone [I've only seen pictures of a perfect one] looks somewhat like a Maltese cross. It's no secret where to find these stones, and as we approached the area I had learned about I could see there were several people in the area, stooped over and intently studying the gravel.  I'm no geologist, but I couldn't imagine why the stones would only be found on one side of the river, and since we had a boat we went straight across from the publicized spot.  We found plenty of stones, but I think that finding a fairy stone that looks anything like an actual cross is pretty rare. Our best fairy stones are pretty boring looking at a glance, but it is interesting how they have a diamond cross-section. We also found some nice mica pieces. 
Once our rock hunt was over it was time to fish.  We alternated between drifting and anchoring, and while the fishing wasn't red hot, the girls each got a few fish.  I had come up with a points system where various fish captured would equal dollars to spend at Treasure City.  This did cause argument over who got to watch the night crawler rod while anchored, as the crawler was likely to produce fish other than smallmouth.  We spent an hour anchored at one spot where smallies were aggressively feeding on damselflies.  I have seen this a few times before on my home water, and usually have a few damsel fly patterns on board just in case.  I took them out last week while consolidating fly boxes, so we just went through the tackle box, trying this and that.  The biggest smallmouth ate a crawler, but most memorable was one Skylar caught on a crankbait she picked out of her tackle box.  It was the first time she caught a bass on a lure where she made the cast and set the hook herself, and it while it wasn't very big, I've never been more proud.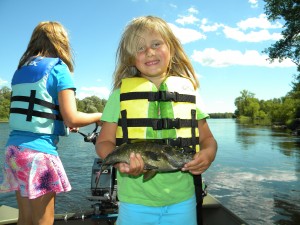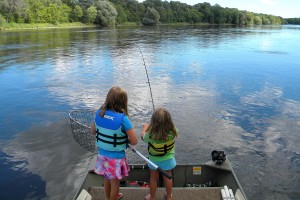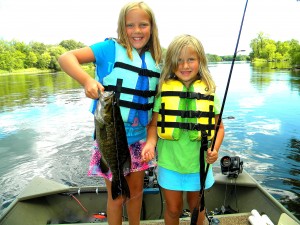 As the sun got a little lower, the action picked up, but the girls were a little spent.  I fished some likely looking shorelines myself and put on a mini-clinic on how to catch smallies on soft plastics—caught about 5 fish and missed a few others before we had drifted back to camp.
When we got back to the ramp we met a gal who was about 3 weeks into a Lake Itasca to the Gulf of Mexico kayak trip.  She had the world's smallest tent, but seemed to have everything she needed, including a pink flamingo for a mascot.  She looked just like someone I had met a few years ago doing the same thing, but when asked she replied "No one would do this twice!" A solar panel on the kayak kept her computer and phone charged.  The strange thing to me was that she is from California, and I didn't get the vibe she had even been to Minnesota before.
Here she is just before I gave her a shove and on her way down stream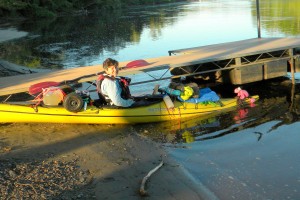 Our dinner that night was Easy Mac [turned out horrible, turns out you need a microwave for this kind of mac and cheese] and hot dogs.  I had foil and butter with in case a walleye or pike was foolish enough to end up in the boat, but our species this day included smallmouth bass, channel catfish, and redhorse sucker.  Skylar still can't quite figure out why we eat some kinds of fish but not others.  After our nutritious dinner it was time for a Minnesota campfire classic– s'mores—I even ate one.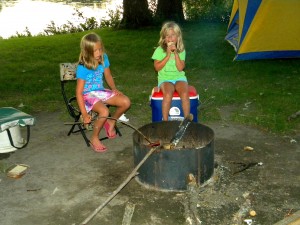 Finally the fire died down and it was time to turn in.  We soon found that a huge emergence of stoneflies was going on, and they were EVERYWHERE, including in the tent.  All of my explanations of how harmless they were fell on deaf ears, and the girls would not rest until all had met their demise by flip flop.  After my stories of sasquatches in these parts on the way up, it was decided that the safest place in the tent in the event of an attack would be in the middle.  Savannah [of course] claimed this spot for herself, and the girls watched a movie on their DVD player.  The night was uneventful, no sasquatches, no yetis, not even a woodchuck.
The following morning was the kind of morning we all hope for—a bit cool, but sunny and glorious in all ways.  The girls were delighted that I had hot chocolate fixins, so I made a batch and got the fire going again.  To keep the nutrition and chocolate theme going they had Cocoa Puffs for breakfast.  I made them wash the few dishes we had while I broke camp, and then it was time to get back on the water.  I backed the boat down to the ramp to let some water drain out, and a guy who was part of a party that had just launched a driftboat commented on how much water was coming out of my boat.  "Well this boat has seen a lot of use and yeah, it has a slow leak, and because of how I had it parked last night the water didn't drain out yadda yadda…and it's only a couple gallons yadda yadda…" was my response.  So I launch and tie up to the dock.  Then I notice that the driftboat that the three guys had just launched was about half full of water.  I pointed this out to the guy who had been so nice to point out how much water came out of my boat, and suggested he put the plug in.  Well it wasn't his boat, it belonged to one of the guys doing the shuttle, and he didn't know where the plug was, and the yeti cooler on the dock wasn't going to be much help for bailing.  I had a spare drain plug, figured out where it went and grabbed a couple of buckets and we had it mostly bailed out in a few minutes.
By now, my girls were on the dock watching the show.  We all got aboard, shoved off and wished the guy good luck.  We headed off upriver to where we had caught fish the day before.  It was mostly a repeat of the day before, no crazy fast action, but enough to keep everyone interested.  They had a double header on at one point, the smallie Savannah had on was the biggest of the trip but it got away just as it got to the boat.  Skylar caught one that ate an errant cast that landed 5 five feet from the transom while we were anchored in pretty swift current.
Note the custom pink worm Beetle Spin thing we put together that it ate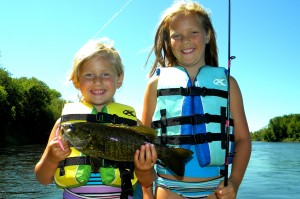 I even broke out the fly rod and managed to get one on a craw pattern.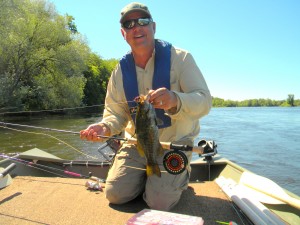 We were in the home stretch, maybe a half mile from the ramp.  The water was pretty clear, and I could see the bottom pretty well in five feet of water.  When the conditions are like this I enjoy drifting along, spotting different fish.  I was seeing a lot of fish that at first I thought were big redhorse, but I soon realized they were mostly catfish, and big ones at that.  There must have been 50 in one short section, most looked to be 5 to 10 lbs.  We were out of bait by this time, or we would have anchored up and exercised a few kitties.  Next time.
Back at the ramp I pulled the boat up on the gravel and told the girls they should make some casts just below the access, as I had spotted a couple smallies there the day before.  When I got to my vehicle, my buckets and drain plug were waiting for me, along with ten bucks—that was a nice gesture.  I pulled the boat out, and after I had it strapped down I went to check on the girls.  They were still casting, but hadn't quite made it to the best spot, an area where there was a nice rock pile about 30 feet from shore.  I had a great vantage from up on the high bank, and when I walked just a bit downstream, sure enough, there was a nice smallie patrolling the rocks, on the hunt for a well-placed Beetle Spin.  I was just about to call the girls to the area when I spotted another fish out there—a muskie!  Looked to be in the low 30" range, and would be sure provide a large amount of excitement if it was at the end of a little girl's line.  I had them take turns casting at it, they tried a Rapala and a wacky worm, but no luck, that muskie was having none of it and left for calmer waters.  Then Skylar had a smallie nose right up to her wacky worm, I said "leave it…leave it…now give it a little twitch!" and she proceeded to jerk it about 4 feet, and Mr. Smallmouth went the same direction the muskie went.
You can't see it, but there is a muskie 30 feet in front of Skylar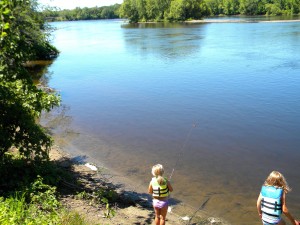 So now we were left with only one more thing to do—the promised stop at Treasure City.  With all their fish they had each accrued $12 to spend, and they managed to spend most of it on knick-knacks.  If you've never been there, it really does deserve a stop, the amount of crap they have crammed in there is impressive. Less than two hours later we were home again, already making plans for next year.