There is a special place not far from here, known by many as Willow River State Park.
Before I had ever been there, I knew it as Middle Dam.   My grandpa was a retired teacher who fished a lot, and often talked of this place.  Surprisingly, for how much he fished, he never once set foot in a boat.  His fishing haunts were comprised of various locations in western Wisconsin, mostly in the Hudson/River Falls/ Somerset area.  For a shore fisherman, it is hard to do better than this area, there is a multitude of streams, rivers and lakes offering access to good fishing for the boat impaired. 
Grandpa lived in the Twin Cities, and I would spend much of my summers at his house, and we would travel to the various Wisconsin haunts on many summer days.   On the trips there and back he would often tell tales of fishing with his son or with some of his students, many of the stories I had heard so many times I think I knew them better than him.  One common theme from these old stories was fishing at a mythical place called "Middle Dam".  Based on the info from these stories [these stories mostly took place in the 60's], Middle Dam had populations of fish beyond what a ten year old could comprehend.  I imagined what a mecca this fantastical place must have been, where giant largemouth would fight over a carefully placed Lazy Ike, where big sunfish boiled the water, where you could easily fill a bucket with crappies the size of plates.  "Twenty years ago, Jim and I were at Middle Dam…" was typical to how these stories would begin.  The stories would end with limits of bass or crappies that they gave to friends and neighbors.
This must have been a slow day, there's only one fish on the stringer!  This is a rare photo of my Grandpa, R.J. Happe, known by most as Phred
"Why don't we go to Middle Dam?" I'm sure I asked him this many times.  The story went that the land around Middle Dam was sold to the State [around 1970], and they had made it into a State Park.  Now, there was an admission fee, and why pay to fish there when we have lots of places we can fish for free.  Grandpa was not cheap by any means, but frugal?—absolutely.  We would often drive past the signs on the highway for Willow River State Park, "That's what they turned Middle Dam into", Grandpa would remark.
I was dropped off at his house one summer afternoon and he showed me his haul of big sunfish and crappies from the day, just before he cleaned them.  I asked where he caught them.  I could not have been more surprised when he replied "Middle Dam".  I sure that answer was followed by volley of questions from me, certainly culminating in "WHEN ARE WE GOING"?!
Turns out that the admission wasn't really all that much, and now that he had someone else to entertain [me] it was time to revisit this old favorite spot.  I'm sure that night that sleep did not come easy as I envisioned what this place must look like.
As it turns out, the fishing there was pretty good.  Not necessarily much better than other places we fished, but good, and I think that part of the reason that I am who I am is because of this place.  There are too many memories to begin to list, but a few come to mind right away.  Besides the fishing, there was abundant wildlife to be seen.  In those days, deer were not near as common as they are today, and we were often treated to a deer sighting on the way in.  The variety of songbirds there is unmatched, and the only time I ever saw a green snake was here. 
Once I was casting a spoon right off the boat launch, looking for a northern.  I hooked a fish, which I soon saw was a largemouth that was about a foot long.  I was close to getting my fish in when out of nowhere a GIANT largemouth appeared, and tried to eat the foot long bass on my line!  My first reaction was to free spool the smaller bass in hopes that the giant would successfully eat it.  Well, I never saw the giant again, and I stood at that spot for the next two hours casting every lure I had with me.  At the time, I was sure that the big bass was ten pounds or more.  In retrospect, probably not ten pounds, but I bet it was at least eight.
In the spring, we would wade out in the area between the boat launch and the campground, fly rods in hand, creels on our shoulders.  The number and size of panfish in those days was crazy, and we would literally fill our creels with them.  There would be times when big dark colored caddisflies would hatch, and I wore the paint off more than one cork popper on the big sunnies and crappies on these days.  The Herter's fly rod I used in those days would get a great workout.
We would fish in the big pool immediately below the dam as well, this area was known for having smallmouth bass as well as the other fish found in the lake above.  We were catching sunfish on our fly rods one day.  I decided to explore a bit, and checked out a small pool a bit downstream.  I can still picture the small, black fly I had tied on, it was pretty tattered after having already tricked a bunch of sunfish.  I let the black fly swing thought this small pool, and was soon hooked up to a WHAT?  It was a trout, not only a trout, but a RAINBOW trout, the likes of which I had not caught before.  How exotic, it was like I was in Montana!  We had caught many brown trout before, and a few brook trout, but never a rainbow.  [Sidebar, although we regularly fished trout on the Kinni and Rush, we hadn't paid much attention to the trout in the Willow River, even though from the dam down it is a trout stream].  I was eager to show my grandpa, but decided instead to put the trout in my creel and try a couple more casts.  Soon, there were two rainbow trout in my creel, and I couldn't wait any more to show him.  From that day forward, the Willow River became a place we regularly fished for trout. 
In later years, I started fishing there with friends, and I even stayed at the campground a few times.  Once we were camped near the lake, and we kept our minnow bucket in the water.  We went down in the dark to retrieve our bait to find a skunk trying to get the minnow bucket open!  I threw rocks to scare the skunk away while my friends hid behind a tree.  On another occasion I was camping there with one of my sisters.  I foolishly left our cooler overnight on the picnic table.  We woke to find that raccoons had opened our cooler and took everything they could carry.  There was a trail of hostess wrappers going off into the woods, and grubby paw prints on the milk carton still in the cooler.
I fished there with friends, sometimes with a rowboat [this lake has always had a no motors policy], but mostly from a float tube.  Many a May day was spent flippering around the quiet lake, casting at the shoreline.  Some days the fishing was good, some days it was great.  Everyone that I know who fishes this lake regularly has caught their biggest bass there, and when it was "on" you could bet on at least one pushing 5 pounds. 
This is the biggest largemouth I've ever caught, Little Falls Lake in 1991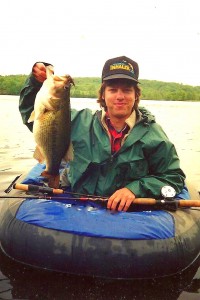 We fished there enough to have names for certain spots—"Bonsai Tree", "Turtle Bay", "Takeout Point" and more.  Some of my friends still fish there regularly, but I don't make it there too often any more.  I have two actual boats to use, and sitting in 60 degree water in an inner tube for hours is a little tougher than it used to be. 
And while it has been a few years since I have been there, I will make it a point to float my tube there this May, as it appears that Little Falls Lake is about to be no more.  The dam that creates the lake is approaching the century mark, and it is likely that it will be condemned.  A complete drawdown of the lake is scheduled for this summer so the dam may be inspected.   It appears as though the present dam cannot be repaired and will be removed, and the building of a new dam is unlikely.  Even if it was rebuilt, it would be a decade or more before the lake came back, and I'm not sure if it would ever be the same. 
I have said many times that dams are bad.  They do create lakes where there were none, and allow for flood control and can be used to generate power.  They make great fishing spots. But at the same time they are ugly and prevent fish movements, and remove habitat for native species.  When this dam is gone there will be a mile of trout stream left in its place.  When you think about it, there are far more places around here where you can catch a bass than where you can catch a trout, so that might be a silver lining.  And there will still be a State Park there, with trails and wildlife. And don't forget that in the past two decades two other dams have been removed on the Willow River for similar reasons, so this should come as no surprise.
Note how in this picture from 1963 that you can see what rough shape the dam was in even then.  It has been repaired at least a couple of time since then.  This is another rare photo of my Grandpa, R.J. Happe, known by most as Phred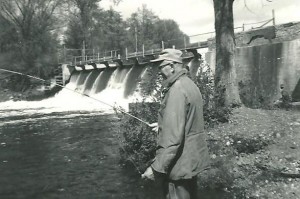 Have no doubt that I really do wish they could figure a way to leave this one in place– strengthen it, rebuild it, something.  Looks like it will be gone though, and Little Falls Lake will join my list of fishing places that were once good, and now are no more.  Rather than think back on these places with sadness, I prefer to reflect with more of a fondness for the good memories, just glad that I was able to be there when it was good, always on the lookout for a new place to make memories.