Black Hills
It was decided last year that we would be making a family trip to the Black Hills this summer.  When I say family, I mean FAMILY…lots of cousins, aunts, uncles and other kin would be gathering near Deadwood.  I don't get excited about gatherings, especially ones that involve more than about 3 or 4 people, but being the fishing nerd that I am, I already had a basic fishing plan formulated before the cabins were reserved.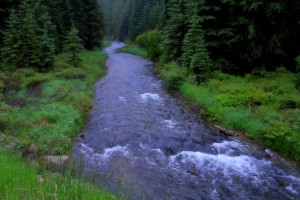 As far as I can tell, no one goes to the Black Hills for the trout fishing, at least not if you aren't a local.  The cabin we stayed at was in a ski area.  Have you ever hear of skiing in the Black Hills?  I hadn't.  The slopes looked good enough, but I suspect the skiing here is like the trout fishing—good for locals, but if you are going to travel for your skiing [or trout fishing], you can do better by going to Colorado or Montana.  In the three mornings that I fished, I saw virtually no other anglers, and almost everyone else I saw fishing was in one specific area.  I knew that my fishing would be confined to morning sessions, and as it turned out, that was perfect, as Spearfish Creek was only about a 20 minute drive from the cabin.  I'm sure there are other streams in the Black Hills that offer better fishing, but I can't believe any would offer better scenery, and I was totally satisfied with the fishing experience I had.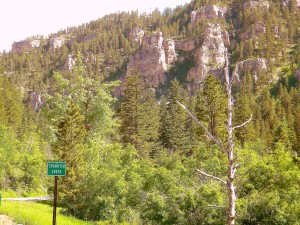 The sunrise I encountered on the first morning was spectacular, made getting up at 5 completely worth it.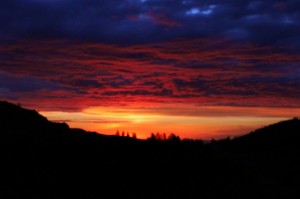 Internet research on message boards, Dakota Angler's website and Google Earth gave me enough info to step with confidence into the creek that first morning.  Trout streams are all kind of the same, and I know good water when I see it.  The water in the creek was pretty high—I would call it "full", but it was flowing clear.  I rigged up at streamside with the same nymphing set up I use here, and it wasn't long before I was into some very active browns.  They weren't big, but they jumped a lot, and while research indicated that these were all wild fish, it was curious that they seemed to be mostly the same size, about 10-11".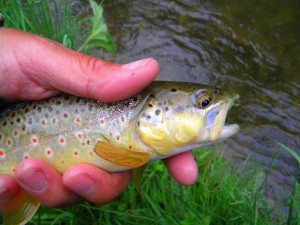 There are supposed to be wild rainbows in the stream as well, but I never saw one, although I did catch a fine looking brook trout from one of the stillwater areas.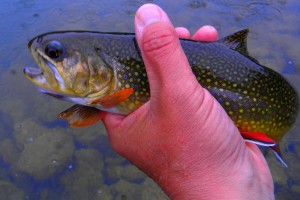 I fished a different section of the creek each day, and had better action in the upper part, mostly about 2-3 miles downstream from Cheyenne Crossing.  I never saw enough surface activity to get me to try any dry fly fishing, but I suspect in the evenings there could be some, and later in the summer might also be better for hatches.  Most fish were caught on hare's ear variations; I suspect the fly didn't matter much, as this is a swift little creek, and the fish just don't have much time to inspect what they eat. There is an area with a few small ponds, and another section that is backed up by a dam to form a still water area.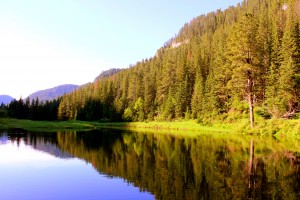 Both of these spots provided great action during low light periods.  In fact one morning I was casting a bugger off the rocks near the dam—after a dozen fish to hand and many others lost or missed, the hackle on the bugger came unraveled.  Not a huge surprise, and decided that maybe it was time to move.  "Just a few more casts" I thought, always keeping in mind one of my Absolute Rules of Fishing –"DON'T LEAVE FISH TO FIND OTHER FISH!" The trout liked the hackle-less bugger just as much, and after I few more I finally left them biting.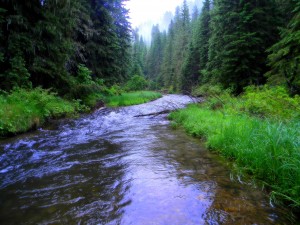 So for review, don't go to the Black Hills to go trout fishing.  Go there for the history and the family fun.  But pack your waders, your vest, and your favorite trout rod.  In the time we spent out there we crossed many other little streams that looked inviting. These streams are scattered all over the Black Hills, so whether you are in the North like I was, or down in the Southern end near Rushmore, it is very likely that there will be some trout fishing to be had.