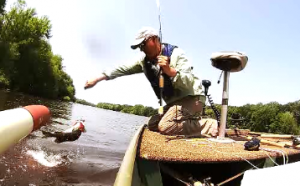 I remember a fine Sunday afternoon about ten years ago when I was battling big boat wakes on a popular metro muskie lake.  At that point in my life, I really did a lot of muskie fishing and I as slowed to bounce through still another ski boat's wake, I strongly evaluated my choice of water craft.  Maybe it was time to move up to boat better suited to big or busy water.  It was a week or two later that I found myself on a remote section of a river in northern Wisconsin, searching for muskies and sturgeon.  Once, while we were anchored up I had a good chance to take a good look around.  No boat wakes here.  No Boom Boom music coming from wakeboard boats.  Just birds and squirrels and flowing water.  And lots of fish.    I knew right then that I would always have a suitable river boat.
I have since added to my fleet and I do have a bigger boat in addition to my jon boat.  These days the big boat gets the most time on the water.  And the fact that for three summers in a row we have come into smallmouth season with crazy high water on the Mississippi hasn't helped.  It brought me great pleasure to roll the Green Monster out of the garage the other day, but at the same time saddened me at how much dust had settled on the rods that live in there and the motor since it was parked last fall.  I moved the boat out into the yard, hooked the hose up to the lower unit on  the trusty 30 Yamaha, and hoped for similar results to every other time I went to start this motor.  I was not disappointed as it fired on the third pull.  I let it run for a few minutes while I rigged rods for the next day's fun and games.
I have guide trips starting this week, and while I have fished on the Mississippi enough to know where the fish are likely to be depending upon the season and water flow, it is always nice to get a feel for the river.  With all of the family outings and tournaments this year, I hadn't had much "fun fishing" this year.  It wasn't until I was about halfway to the access that it sunk in that within 30 minutes I would be on one of my favorite bodies of water to fish.  Big Grin!
The River was still flowing high, but was at a manageable level, and soon I was buzzing upstream.  I decided to start on a favorite bank that is favorable in high water—the current is a bit lighter here, but there is lots of nice cover for the brown bass to wait in ambush.
I'm considered weird by many for a variety of reasons.  One of which is that while I'm known for being an avid fly rod angler, and there is no way I would rather catch smallies [or most other fish for that matter], I will be the first one to grab a spinning or casting rod when conditions aren't just right for flycasting.  The world of fishing is divided pretty strongly on this—either you fly fish, or you don't.  It turns out that I also really like pitching a jig and craw around fallen trees, I also like twitching soft plastic jerkbaits in more open water.  I'll even cast spinnerbaits and crankbaits [sidebar–there is no better way to catch river smallies than on crankbaits] but fishing "chunk and reel" baits like these does get a little boring.  I believe that my rod count on Sunday had 6 baitcasting rods, two fly rods, and one spinning rod with.  I know that I used them all for at least a few casts.  Remember—flycasting is my favorite, and I'm pretty good with the long rod.  But when I'm out alone, controlling the boat in the wind and current, well sometimes flycasting stops being fun.
Pitching a jig and craw to fallen trees, in stream rocks and current seams requires a different skill set than other types of fishing, it takes some elements of largemouth bass fishing [pitching jigs to cover with accuracy] and combines them with drift fishing for steelhead [keeping track of your lure in the current, detecting bites].  You also must deliver a rock and roll hookset, which I also enjoy.  It can be fun to come up with a shout-out for every time you set the hook… like "BOOYAH!" or "SHOW ME THE MONEY" or maybe a Serena Williams style grunt.
Anyway, even though I got to the river at the crack of 11, the fishing was still pretty decent, probably landed about ten, mostly on jig/craw, a couple on flies, couple on a soft plastic jerkbait, and the rest on a crankbait.  I left plenty for my customers later this week.
I compiled some video clips into a short "best of" movie, check it out here https://www.youtube.com/watch?v=bwbRbltK2b4
The big fish of the day got away, and for unknown technical reasons the ones I caught on a fly rod didn't get saved to video, but it still turned out pretty good.  As the water gets a little lower, the fly action will just get better and better.