Finally, the river has come back into shape.  Although when I checked my records I see it was actually later than this last year before we could get after the brown bass on the river.  I headed up to my preferred high water launch site this weekend and was greeted by hoard of mosquitos the likes of which would rival anything in Alaska.  Luckily I had everything pretty much ready to go and was soon headed up river.  I hit a few key spots on the run up to Monticello, but mostly just enjoyed the ride.  Fishing pressure overall was pretty light, and I was able to fish everywhere I wanted.
And the smallies were goin'!   Numbers were good, size was great, and fish were caught on a variety of presentation.  As far as flies go, I didn't have much action on poppers [which is odd, conditions were seemingly perfect for popper fishing], but got a few on Stay Hungry Streamers, the biggest measured an honest 19 and 15/16″ long.  Spinnerbaits, soft plastics and crankbaits were all eaten by the brownies on a regular basis, although the highlight of the day may have been when a big channel cat absolutely destroyed a spinnerbait right next to shore.  Here is an example of the flies I used.  Feel free to contact me for tying instructions, or check with a fly shop that sells Umpqua Flies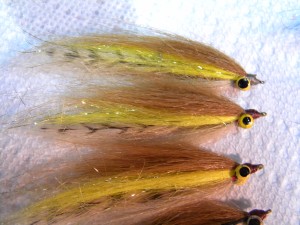 Lots of good days to come, and I'm especially looking forward to the White Miller Hatch in a couple of weeks.