I had this emailed to me the other day, Sounds like these guys have done their homework–I think they're on to something.
November 23, 2015
From the offices of Specialty Products International, Latrobe, Pennsylvania
For Immediate Release:
At last a truly new and unique product for the fly fishing community, and we are extending an offer to be a part of it.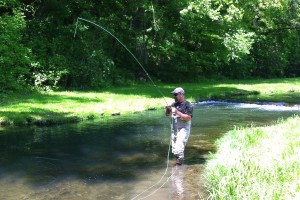 Our passion for fly fishing is like a flame that cannot be extinguished—in fact it grows larger each day, no matter the weather, no matter what is happening in our personal lives, there just isn't anything as important to us as fly fishing. And since we are already established in the business world as masters of manufacturing and procuring unique, high quality goods, it is only natural that we expand our expertise into the world of fly fishing.
Our organization, Specialty Products International, has dedicated a considerable amount of research to this, and after many days of research, interviews, and focus groups we have settled on a product that is a long time in coming. Obviously, we are active in all the forms of social media—Facebook, Twitter, Instagram, and countless message boards. One thing we have noticed is that there seems to be something that fly fishermen love more than getting pictures of their fish–it is getting pictures of themselves with the cork grip of their rod clenched firmly in their mouth, and if there's a fish in the picture, so much the better.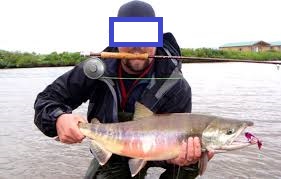 It's almost like the desire to get that cork in their mouth is why they wanted to catch the fish in the first place—you know who we're talking about, we've all seen the pictures. You've probably even thought about getting a picture like this of yourself, heck you probably done it a time or two! Well now there's a product to make the process better, and believe us when we say that even if you have been reluctant to put cork in your mouth before, this is sure to swing you to our side.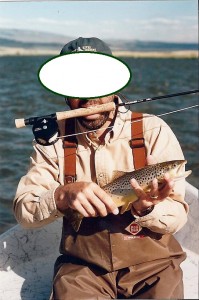 Allow us to introduce "Cork-Soak", a product designed to make the already enjoyable process of having cork in your mouth even better. Cork-Soak is a flavored mist, made with the finest organic ingredients in a myriad flavors, and we firmly believe it makes having that cork in your mouth even more satisfying. Flavors include Spearmint, Cool-Ice, and Wild Berry.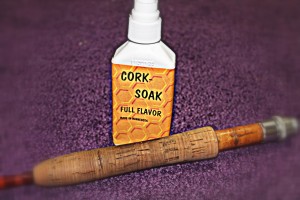 We also have a new flavor in development called "Flipster" specifically designed for the fly fishing hipster. It is a lively blend of hops, coffee, tobacco and corn. All varieties are fortified with Retsyn, for longer lasting flavor.
We noticed some anglers on line that have posted dozens of fish pics, yet they had their rods tucked out of the way for all the pictures. When asked why, one of the most common reasons was that some cork just didn't taste all that good. Saltwater anglers in particular complained that their cork often tasted of salt and sweat.  With Cork-Soak, there's no reason not to get on the bandwagon.
Now, when you've got that cork in your mouth you'll really have something to grin about.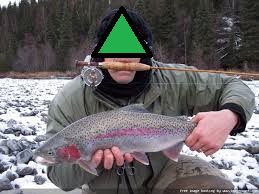 We know you want to show off your new rod and reel, so clench your mouth around that cork and give us a big grin. Don't be one of those posers with your rod balanced on your shoulder for a picture—not only does it look super gay but you could drop your sweet rod and reel in the river, and then no one will believe you actually caught a fish on a fly. It doesn't matter if your cork grip is half-wells, full wells, heck it could even be Dawn Wells for that matter, a couple of quick pumps of Cork-Soak will make it better.
Even if you cant catch a fish, don't let that stop you from enjoying Cork-Soak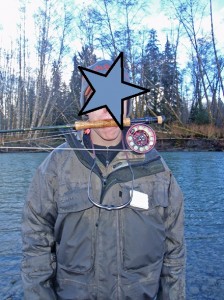 Supporters of Cork-Soak can contribute $50.00 to get in on the ground level of this product's development.  Our expert marketing ensures that Cork-Soak will become a mainstay in the fly fishing community. Your $50 gets you a Cork-Soak starter pack, including 3 bottles of Cork-Soak, a hat, our soon-to-be-a-classic "I'm a Cork-Soaker" sticker for your car, and a permanent place on the Cork-Soak Pro-Staff.
Initially we are going to offer Cork-Soak in convenient 4 oz. bottles-just right for the vest or pack. If this doesn't sound like enough, don't worry–guides, Spey rod enthusiasts, and others who may go through a 4 ounce bottle in a weekend, we will have Pro-Pack 20 oz. bottles very soon.
That's almost a foot of cork!  He's a candidate for the Pro-Pack!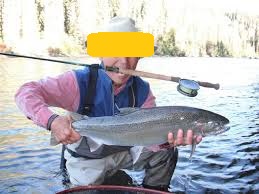 We didn't forget your favorite four-legged fishing partner, we will be offering Cork-Soak in Snausages flavor as well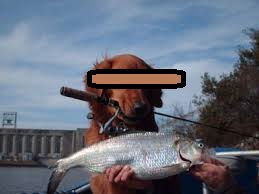 This angler had a choice between a mouthful of beaver and a mouthful of cork.  We think he chose wisely.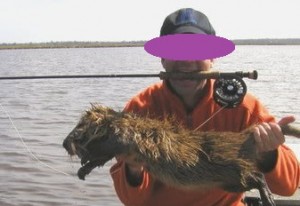 The link for our fundraising campaign is here http://imgur.com/gallery/wb00gXP/new
Thanks for your consideration, and be sure to email us your best Cork-Soak photos!
Ron Stablehorn, Vice President of Marketing, Specialty Products International
 So there you have it…based on what I see on message boards, this is a million dollar idea!