I can't say for sure what the first year was that I fished the Wisconsin Trout Opener, very early 70s though.  Grandpa took me every year, and for the most part I haven't missed an opening weekend since.  Grandpa has been gone for a while, but I do my best to keep the tradition going.
At this time I  should say that if you are against fishing for trout with worms, or keeping some trout to eat on occasion, please read no farther.  I catch and release hundreds of trout a year on flies, that's not what this day is about.
I would really like to be out on the actual opening day [Saturday], but with two little girls there's always gymnastics and birthday parties and such, so we made it out on Sunday.  The oldest one, Savannah, is a veteran trout angler by now, this is her 4th year of trouting.  This was the first year for Skylar, and the first year for Dad taking two kids to a trout stream.  A year or two ago, Savannah suffered some low to moderate emotional scarring after having to do a number 2 in the woods near a stream–tales of this episode had made it to Skylar, and she had a certain amount of concern over this possibility.  Just to be safe, we took our time getting  going on Sunday morning, allowing time for everyone to be uh, empty.
Soon enough, we were Wisconsin bound.  A lively game of "I-Spy" kept us occupied for most of the trip, after an hour or so we were headed down the county road I have traveled so many times over the years.  The traditional opening day spot [long ago named "Harvard" by my Grandpa because the trout residing there are so smart] has changed a lot over the years, but the fish are still there.  I baited the girls' lines with worms we had gathered the week before, and  "propped – up" on our store bought "Guthrie Sticks".  Now the hard part–the waiting.  I keep a good supply of snacks in the tackle bag, but the bite was slow today, the spot was living up to its reputation.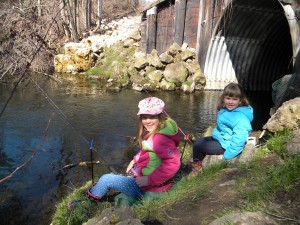 Savannah managed a couple, but we soon were on our way to a new spot.  This is a place I had never fished with Grandpa, but Savannah and I have put on a couple of trout clinics there in the last couple years.   I no sooner had the two girls lines cast out and was starting to wrangle some fresh snacks, when I see Skylar hooked up!  She had not caught a trout yet, and this one appeared to be bigger than most.  Her rod is best suited for bobber fishing sunnies, this fish maxed out her little rod!  Soon enough she wore it down and  I scooped it into Grandpa's old long handled net.  This trout, which I later measured out at a respectable 13 1/2″, was the first of about 8 we caught there, and the biggest of the day.  The action was quick for a while, and at one point while trying to untangle one rod and re-bait another I lost my footing and ended up in the river.  I have carried a pair of sweat pants in my vehicle for over ten years for such an occasion, today was the first time I had to use them.  Better me than one of the little girls, that's for sure.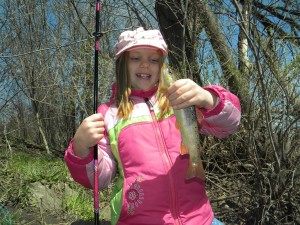 It was about time to move anyway, our next spot was going to require a little more adventure.  I pulled my waders on over my dry sweatpants, and prepared us for the hike in.  While stream is close by, to fish this area you just have to be on the other side.  So first I muled our gear across, then came back and carried the girls one a time over to the far bank.  There were a couple of spots to fish in this section, and even though is was the middle of a sunny day, and the water was crystal clear, we managed a couple out of each spot.  Savannah got the multi species award by bringing in a fine sucker as a bonus.
Once we got up the hill, I strung up all of our fish for a photo, Savannah had a hard time lifting the stringer herself.  Those fish are now cleaned and chilling in our fridge, and as Doug Stange would say, they will "be the focal point of a fine meal".  The girls love eating fish, and so do I.  The stream we fish has a strong population of smallish wild browns, and there is no harm in keeping enough for a meal now and then.  There will come a day when the girls are able to cast fly rods at these fish, maybe later this year for Savannah.  She can already tie flies.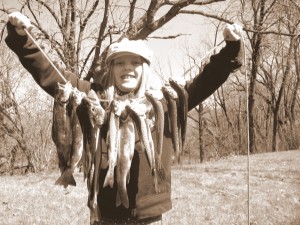 Now to end the day we stop at a local ice cream shop.  Skylar predictably will choose vanilla, Savannah will pick strawberry every time.  We ate the cones along the river walk in downtown River Falls.  Once we got on the road I checked my phone.  Mom had called about 13 times with a few texts besides.  Oops, had my phone turned off.  I called and assured her we would be home at the agreed upon time of 5:00, and that all were safe and sound, and that I was the only one that fell in.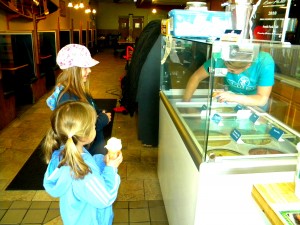 Both girls were asleep by the time we crossed back to Minnesota, and we did make it home by 5.  I can remember when my Grandpa would get home after a day of fishing with me and announced how tired he was and that he needed a martini.  After untangling lines, baiting hooks, unhooking fish, and answering a thousand questions for my two girls, I now understand!  It was a great day, though, and while I'm not sure for how many more years I'll be able to get the kids to come fish with their old man, I hope these days will leave them with lasting memories.