A foot of snow fell in southern Minnesota this week, seemingly ruining my plans for a recon trout trip I was going to take with Savannah.  I figured the runoff would have blown out all the streams, but somehow it melted off slowly enough for the streams to be flowing clear.  A call down to Whitewater State Park confirmed that the snow was mostly gone, and the streams were in good shape.  I used to fish the Minnesota streams a bit, but never as much as the Wisconsin streams.  But since the past few outings to Wisconsin have been lukewarm at best, I figured this is the year to revisit some old spots and learn some new ones.  I have to say that every time I visit SE Minnesota I come home wondering why I don't go down there more often.
So Saturday morning found me and Savannah heading South on Hwy 52, hoping to put together a good day of troutin'.  Rain was threatening, but after studying the NWS radar I convinced myself that it would rain little, if at all while we were out.  Savannah has caught a bunch of trout before, but it has always been on bait.  I was hoping to take it up a level, and I had put together a small pocket box for her with a few Rapalas and Panther Martins.  The drive went quickly and any fears of the streams being blown out were for nothing as the water was clear, maybe too clear.
Savannah is a capable caster for a nine year old, but casting in a small stream is challenging, and accuracy is crucial.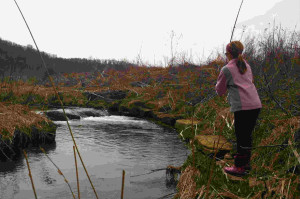 She did pretty good though, and hooked a nice fish in each of the first two spots we tried, but both came off right away.  How a fish can avoid getting caught when it bites a Rapala remains a mystery.  There were some small trout rising steadily in a couple of spots, and I was able get them to bite without too much difficulty on any small fly I showed them, but I really wanted the girl to get one.
I've not done much spin fishing for trout in the last 30 years, I did a lot when I was a kid, though.  I learned early on that when the Rapala/spinner bite is on, it can be ridiculous how easy it is to rack up a bunch of fish.  [Sidebar—At some point I realized that when the Rapala bite is on, the streamer bite is also on!] But when the trout are not on the Rapala program, you have to cover a lot of water for every bite.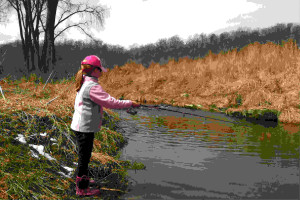 This seemed to be the case today, and I'm sure the snow melt, while not causing the water to become muddy certainly cooled it off enough to stop the trout from being in a chasing mood.  We broke for lunch [cold pork chop for me, bagel with strawberry cream cheese for Savannah] and made a fresh attempt, this time heading upstream from the bridge.  I scored a few more on a Griffith's gnat, and I hooked up a nice brown on Savannah's Rapala out of a particularly narrow and snaggy run that she didn't want to attempt casting at, and quickly handed the rod off to her.  It was about 13", and seeing the fish renewed her interest in getting one on her own.
We decided to head back to a big corner hole we had tried in the morning, and she covered every inch of it with spinner and Rapala without a bite.  While she was doing this, the trout were rising steady at the top end, gorging themselves on some mayflies that were hatching.  I made a few casts with a dry while Savannah was changing lures, and hooked one on almost every cast.  Savannah has caught a few sunfish on flies, but we're never tried it on trout.  It was obvious if she was going to catch a trout today it was going to be on a fly. So we repositioned ourselves at the top of the riffle, where a short cast would put the fly over many rising trout.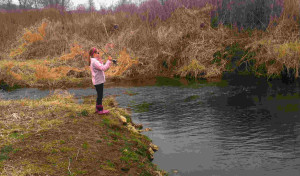 I told her that it was no use to try to learn how make a good and proper cast while there are trout rising almost under your rod tip.  "Just do what you can to get it out there", I said, and that what she did.  The casting form was bad, a couple flies got snapped off, and many strikes were missed.  BUT—two trout were brought to hand, she made the cast, hooked the trout, and brought them in herself.  None were large, and they had probably spent their lives up until a few weeks ago in a DNR concrete raceway, but we didn't dwell on that.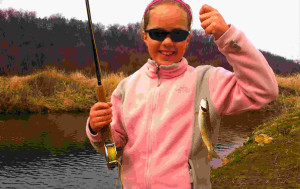 Here I had hoped she would catch a fish or two on spinning gear, instead she ended with a couple on flies!