Made a rare visit to the Rush on Sunday.  The water was high, but flowing pretty clear.  I couldn't believe how few anglers were out for such a nice day.  Fishing was decent, got into  a nice hatch of mayflies in one section, but most fish I caught nymphing, and even got a few on streamers.  Best fish of the day came on the first cast with a new "Stay Hungry" streamer pattern I call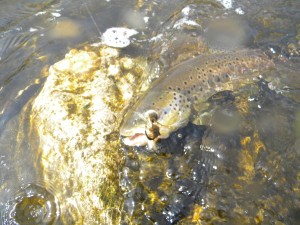 "Creek Chub".  Not a great picture of the fish o the fly, but there will be more to come.
Sunday brought the end of the catch and release season, the coldest one I can remember.
The statewide Wisconsin Opener is next Saturday- you can be sure I'll be out there, will you?