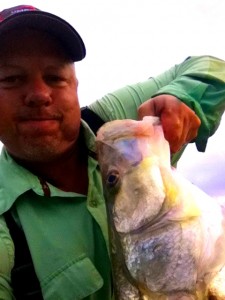 "PLOP"
I watched one of my last jigs disappear into the swirling green water I was standing in.  It had slipped through my shaking fingers when I was retying after releasing the biggest snook I had ever caught.  I should have been mad, but I just chuckled and barely even considered trying to recover it out of the thigh-deep water.  Still thinking about the big snook, I pulled my jig box out of my pack and selected a similar model, and my fingers were still trembling a bit as I knotted it onto what was left of my 50 lb. shock leader.  I had already landed several other snook of various sizes, and soon I would land several more, as well as break off a few other big ones, further eating into my dwindling supply of jigs. The bite had started to slow when I hooked a truly GIANT fish.  After 5 minutes of back and forth I had a monster redfish at hand that had eaten a white bucktail jig I had tied myself.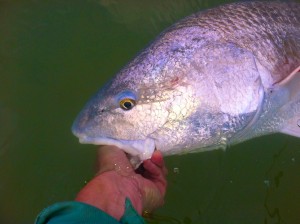 I've caught my share of redfish before, but this thing was so big it was like an entirely different kind of fish, easily over 20 lbs.  After releasing the beast, I figured I had done enough damage for the morning with jigs, so I hooked the bucktail onto a guide and switched rods [not knowing at the time that a big snook would end up wearing that jig as a lip ring the next morning after wrapping me around a piling!].  I often bring two rods out with me on these sessions, usually one fly and one spinning.   I decided it was a good time to get a few on flies.  My session wrapped up with me putting a Stay Hungry Streamer to good use on a nine weight, catching 4 more snook, a ladyfish, and a 20" trout that came back to the condo with me.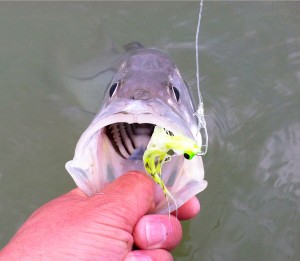 9:15 AM and I'm on the road back to the condo, AC cranked, music cranked. Alanis Morissette is telling me about things that are ironic, like rain on your wedding day.  Well what about spending hundreds of dollars on a guide and catch practically nothing only to have one of the best fishing sessions of your life two days later on your own. Now that's some black fly in your chardonnay shit there for sure.
This isn't the first time I've pulled off something like this.  I've been thinking about how many times I have found good fishing on my own in various saltwater locales.  This is in no way meant to discourage you from going on a saltwater trip, or to not ever hire a guide. A day out with a guide is a great opportunity to pick someone's brain who lives there. Besides giving general tips on tackle, flies and general mechanics of the fishing in the area, a good guide should be able to offer some insight on DIY spots.  What the heck, I'm A GUIDE!   BUT, I do encourage you to try and strike out on your own to find some great fishing on your own.  It is almost always going to involve a little work, quite a bit of walking, and it may take a couple of days of eliminating water to find something good.  But when it all comes together, the satisfaction level is far higher than you could get on a guided trip.
Most of the time when a person finds himself looking at the ocean, he didn't go there just to fish.  Chances are good that there was some family fun related reason to be where you ended up. Maybe there was a wedding or a business meeting.  Whatever the case, if you find you'll be near some salty water, consider striking out on your own, as there are almost certainly some DIY opportunities to be had.  A person could plan a nice salt trip with no boat, [I have some good suggestions for this!]but this is more about searching out the best that your given area has to offer.  I have had good fishing on my own in Texas, at the Baja, in Cancun, and in a few places in Florida.
This most recent trip was in the Ft Myers area of Florida, specifically on Sanibel Island, for a family vacation.  We had this trip planned for nearly a year, and while I booked a day with a guide, hoping to finally hook AND land a big tarpon, I knew that due to the family vacation nature of the trip, as well as budgeting reasons, most of the fishing I would do would be in short sessions on my own.
The guide I had is someone I've been out with before, he's fished the area for many years and knows the water well.  We were going to spend part of the time looking for tarpon, then maybe tangle with some snook or reds in the afternoon.  It wasn't meant to be, and while we did see a lot of tarpon, I never had and chances to cast at any, and our later attempts at snook in mangroves were unsuccessful.  I hooked one snook, and it was smaller than any of the 25 or so I caught on my own later.  Maybe the fly fishing thing with a guide is over rated here.  About 8 years ago I was out on a similar tarpon/snook adventure.  Tarpon chances were non-existent, and snook could not be had on flies, although I did catch a few on bait.  I went out a couple days later with my father in law in tow, he is not an angler at all.  I had told the guide we wanted to do whatever would be EASY.  This proved to be a good plan, as we caught a pile of fish of all descriptions, and I hooked an insanely giant tarpon on what I would consider to be a light walleye rod.  A really great day of fishing, no fly fishing involved.  This outing makes 6 attempts at a tarpon here, and the only one I've caught was a 30-pounder caught blind casting up a river.
Maybe I'm a shitty fly fisherman.  While anything is possible, I do have a lot of evidence pointing to the contrary.  Next time down here, I think I will just skip the tarpon on a fly thing, and save it for the Keys.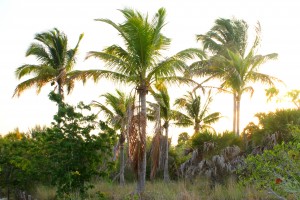 In the months leading up to the trip, I had plenty of time to dial in some good walk in/wade fishing spots on and around Sanibel. I had been there before, so I had some ideas. About ten years ago I got into a bunch of small snook casting streamers off the beach.  This is a well know fishery that is super easy to pull off—provided the fish are there [right time of year] and the weather is cooperative [no giant waves].  So I had this to go on.  The condo I was staying at had free kayaks to take out, so this was likely to offer some opportunities as well.  I spent hours on Google Earth, looking at any possible access spot.  I googled every combination words involving fishing on Sanibel—things like "Sanibel fishing, "Sanibel Snook", Sanibel wade fishing", "Sanibel surf fishing", "Sanibel fly fishing".  These Google searches would reveal clues, leading me to posts on message boards, guide's fishing reports, and blogs.  I also searched these things on YouTube and Instagram. In my on-line searches, certain locales, techniques and info popped up regularly, and a couple of videos revealed some very specific spots I was able to locate on Google Earth.  [Use "street view" if possible to have a ground level view of parking options]. Any spots or info that looked promising was logged and emailed to myself so I would have easy access to the data.  By the time we got there, I had enough spots to keep me busy for far more time that I would have in 10 family vacations.  As our trip approached, the weather was promising, very steady, and water temps in the Gulf were a month ahead of schedule.  Communications with my guide indicated that tarpon were all over the place, so even that was looking promising.   I studied the tide charts enough to trick myself into thinking I would actually be able to predict what the tide would be doing.  Truth be told, I don't think anyone, including the guides, know what the hell is going to happen with the tides.  Every time I've ever had a guide he is always saying things like "The tide should be moving a lot more here" or "where did all the water go, low tide isn't for another two hours!"
I planned ahead enough to ship via UPS my rod case [3 spinning rods, 3 fly rods] and a box of tackle, so that would all be waiting for me, and would allow me to bring somewhat more gear than if I was having to schlep it though airports.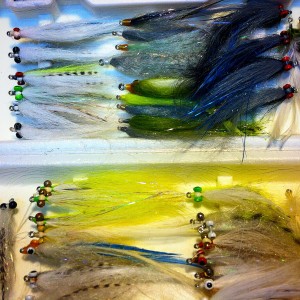 When it came time for exploring, I initially used some sightseeing missions with the family to scout out a couple of spots, noting parking spots, presence of other anglers, what the tide was doing, etc.  The first time I fished my wife dropped me off at a canal I had identified through videos and Google Earth.  I knew this spot was no secret, but the fact there was no parking available within a half mile greatly cut down on pressure.  I put in 3 sessions at this spot during the week, caught fish every time, and never had any competition.  Here I caught several snook and jack crevalle, as well as a couple of the very evil "leather jack", a nice enough looking silvery fish, but with super sharp spines that have venom.  One stabbed me and my finger was numb for an hour.  I briefly explored an adjacent bay, cautiously wading along the edge of a mangrove shoreline, casting straight ahead.  I was surprised to not catch anything here, because the water was very fishy, lots of bait, crabs, and mullet.  An alligator popped up about 50 yards away from me once, but it just slowly swam away from me, heading in the direction I had come from.  It didn't look too big, so I didn't worry about it.  Much.
Being somewhat intrepid when it comes to exploring fishing spots, I am able to continue fishing when faced with perils such as gators, sharks, stingrays, and jellyfish.  I continually tell myself how much more likely I am to get hurt on the car ride there than by any aquatic creatures.  I do wear long pants or waders most of the time, I always have on long sleeves for sun protection, good footwear [cheap tennis shoes, throw them away after your trip], and a knife on my belt, just in case. If you are easily spooked by the thought of potentially dangerous critters, well consider just fishing off the beach, or sticking to the guided trips.  One morning I was in almost to my waist when a big boil appeared about 50 feet in front of me.  I was 50 yards from shore, so there was no sense in trying to get away from whatever it was.  A few minutes later I was re rigging when the culprit, a big manatee, popped his head out ten feet from me.  [Manatees are as harmless as a cow, hence their nickname, the "Sea Cow"].
The spot where I did the most damage was in an area easy to access and it is very well known.  I gave it a try early one morning.  I caught a small snook right away, missed a few other strikes and was contemplating a move.  I was keeping my eye on another angler who had waded way out on a sandbar and was casting at some docks and mangroves. I never saw him hook a fish, but he passed me on the path while he was leaving and in a great "Boomhauer" type accent told me, "Tell you what man hooked three dang ol' snook right up 'er by that dang ol' white dock…must be some kind dang ol' hole up there, every time cast right up there bing bang boom, hooked three broke my dang ol' line".   Figuring I won't ever get a better tip than that, I checked the time and made a beeline to the sandbar. Besides, this was the same area that a friend had indicated may be a good spot to try.   My time was running short, but I stuck three or four snook on jigs pretty quick, made the switch to flies and got a few more, plus a jack and a trout.
Other spots that I had scoped out were going to wait for another trip, as there was no way anything was going to top this spot.  On my last morning some guide boats were working the area around me, it brought me great joy that I never saw one of them put a fish in the boat.  I ended up putting in three morning sessions there, and caught at least 25 snook, lost and missed many others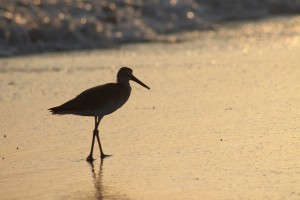 There are some venues that lend themselves to fly fishing more than others, going forward I'll be a little more selective about where and how I fish.  As I've said many times before, lucky for me I like catching fish all different ways.  There are places where the guides must really hate fly fishermen. One morning in the Baja as we were pulling away from the dock, our guide was talking and gesturing to a different guide in another boat.  I had fly rods with me, and based on the tone of his voice and body language, he wasn't telling the other guide "Oh this is going to be great, there's no better way to catch fish down here than with a fly rod.  We'll have to quit early because the boat will be overflowing with fish by noon."   I think it was more like the Mexican version of "why me?"  I did catch fish on flies that day.  Trolling them.
But later on that same trip I caught various shallow water fish and had a couple of very good chances at roosterfish on my own casting flies off the beach.
When you strike out on your own, initial explorations are really best accomplished with a spinning rod. You can cover so much water so quickly compared to what you can do with a fly rod.  By far and away the most important element in every kind of fishing on earth in LOCATION.  Find the fish, once they are located, now you can dial in your presentation.  If you prefer fly fishing, great.  I know that is what I prefer to do when possible, but wind, water depth and other factors can make fly casting nothing more than casting practice [if it's windy, it isn't even that!].  What kinds of lures and flies you should have depends on where you will be and what kind of fish you'll be after.  I try to bring a little bit of everything, maybe check with a local tackle shop in the area for suggestions on both tackle AND on locations.  Try to do your fishing when conditions are best, low tides allow anglers on foot better access to many spots, and mornings will usually find the fish more active. Also the winds will usually be lighter than in the afternoon.
Oh, and by the way, these tips can also help you find some new spots close to home too!