There may not be any other event that defines Minnesota fishing like the Walleye Opener.
Although the Minnesota fishing opener is a tradition long held sacred by many Minnesota anglers, for a variety of reasons I often skip it. I don't skip fishing, of course, but usually in May I have North Shore steelhead to chase, bass season is open in Wisconsin, and this is just a magical time to be on a trout stream as the woods green up, the birds carry on with their birdy debates, and the trout rise freely. This year would be different. Word came out through social media this winter that additional "fishing hosts" were needed for this year's "Governor's Opener" to be held on famous Gull Lake at Nisswa.  Being someone who is often overly confident of his ability to fill the boat with fish in any situation, I offered up my services.  What the heck, I have lived in Nisswa before, and I've fished on Gull Lake a number of times.  [I realized when I got to the lake that hadn't been there in at least 10 years, and couldn't remember if I had ever actually caught a walleye there….]
Thursday evening found me at the first meeting for all of us "Fishing Hosts".  There were some nice, short speeches, and a great meal.  I couldn't believe how many people I didn't know there, lots of unfamiliar faces.  Had fun talking to a few guys, and we all got a pile of schwag for our efforts [jacket, hat, net, tackle bag, cooler, metal fish ruler, lots more…].The night went well, we all got the scoop on how Saturday was to go down. They even had us all sign some giant Rapalas that will be given as gifts to various high ranking officials.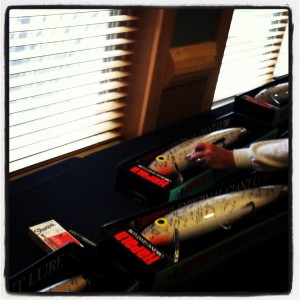 Later, I met up with an old friend who lives in Brainerd.  Jim and I go way, back and he took Friday off from work to fish with me.  Friday was miserable weather, 40 degrees and rain.  We poked around on Gull, just scanning the sonar, looking for likely spots, looking for any sign of life.  The 43 degree water wasn't revealing any secrets, so we to some smaller attached lakes on the hunt for crappies.  We found one nice pocket that had some crappies in it, and found a lot of likely looking spots that had nothing.  At least I had something to go by for Saturday, I wasn't sure which of the media dignitaries would be in my boat, but I hoped they would be up for catching some crappies [as well as pike and bass that were more abundant than the crappies].
I met up with my guest that evening, Randy Quitney.  He is a radio personality from Litchfield, lucky for me he is very easy going and personable, and we made arrangements for me to pick him up at the dock at 8 am the next morning.  I was up long before dawn, as I wanted to be sure to have the boat launched before the crowds.  A quick stop at a local convenience store would allow me to get gas, coffee and bait in one fell swoop.  No such luck, the store I had picked didn't open its doors until 5:30, but at least I could buy gas.  Up the road I went, I'll get bait and coffee at the bait shop on 371.  Bait? – yes. Coffee? – yesterday's was still in the pot.  Alright, one more stop at another convenience store and I had my coffee.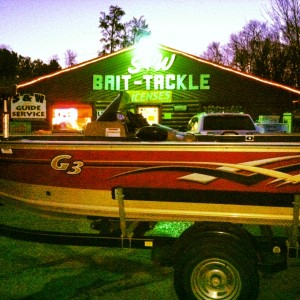 Finally, I had the boat in the water, just as the sun was peeking through the trees.  A pretty good crowd was already fishing in the narrows on the upper end of Gull, but I had another spot in mind though.  I planned on fishing for an hour before I picked up Randy to try and locate some fish.  The spot I had in mind must be good, as there were already two boats on it.  Soon a few more joined in.  I thoroughly fished a nice weed edge without a bite, and decided to pick Randy up early.  I called him at 7:40, and five minutes later he stepped into my boat from the dock at Grand View Lodge, which was the headquarters for this event.  I should point out that this was a most spectacularly beautiful morning, calm and sunny, maybe 50 degrees already.  By the time we got back to my "hotspot", there were over 30 boats working this piece of structure. I at least felt good that I had picked what must be a good spot some of the time. We tried a couple of areas on this bar, didn't get a bite, didn't mark a fish, and didn't see anyone else catch a fish.  So it was off to crappie land.  We made our way through the phalanx of boats in the narrows [there were so many in spots that navigating through was actually tricky] and on to the upper lakes.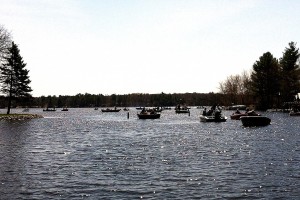 We came into a narrow section with even depth, about 6 feet.  There are many ways to catch fish, and all of them always involve having a line in the water, so I cast a minnow bait behind the boat and handed the rod off to Randy.  I kept my speed as slow as the motor would allow, and proceeded along.
[If I were a REAL outdoor writer, that would have read…Utilizing my Marcum LX-7 locator, I was able to identify the area was prime for early season walleye.  I reached in to the rod locker of my G3 172C Anger, and pulled out a custom built St Croix rod with a Shimano Curado Reel secured in the Fuji reel seat.  The 10 lb. Berkley Trilene XT monofilament flowed smoothly off the reel as I cast the #11 Perch Pattern Rapala Husky Jerk into my boat's gentle wake.  I handed the rod to my guest and he held the cork grips firmly, watching the pulsing rod tip as he awaited the inevitable strike.  I adjusted the throttle and trim on the purring Yamaha 115 until I had the perfect trolling speed dialed in…]
Anyway, it wasn't long before a fish hit, and after a brief but spirited battle, I was as surprised as anyone to look at the fine walleye now thrashing in my net! It looks small in the picture, but Randy is 6 foot 4.  After being around at least a hundred boats this was only the second fish we had seen caught.  "Mission accomplished", I thought.  Anything from here on out would just be a bonus, as Randy told me that he had not captured a walleye at last year's opener in Park Rapids.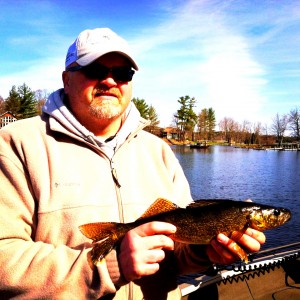 Once I got us to the crappie hole, I realized that this too must be a great spot, as there were several other boats packed into a fairly small area.  I waited for one boat to head down and pulled into where they had just been.  The day before I had found some nice crappies in about five feet of water, hanging around old lily pad roots.  There were still a few around, and we got a couple in short order.  None of the other boats caught anything while we were there, I would have thought with the sun warming the water into the low 50's that this bite would have really picked up.  We tried one more crappie spot and didn't get a bite, although the wildlife viewing was great: Two trumpeter swans flew overhead, and then a patient osprey that kept hovering over a particular area finally showed us how it was done as he crash landed into the lake 50 feet away and then flew off with a foot long bass in his talons.  Yes, the osprey had large talons, and no I don't think he realized bass season was not open yet.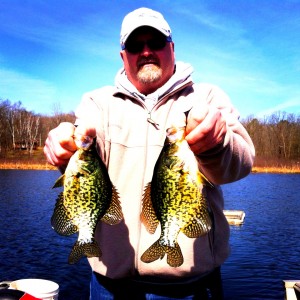 Randy needed to be back at Grand View Lodge by Noon, so that ended our angling session.  The crowds in the narrows were even bigger, so someone must have caught something. At Grand View, there was a big lunch going on, with fried fish and walleye chowder and all other fixings.  I ate lunch with Randy and his wife, and wished them well.  When I wore a younger man's clothes, my next move would have been to head right back out to the lake and try to hunt up a few more fish.  Instead, it was time to call the wife and tell her I was putting the boat on the trailer and that I would be home in few hours.
It was a fun experience being a part of the Governor's Opener, glad to have been a part of this great Minnesota tradition, and I hope I get the chance to participate in again.  Maybe one day there will be a Governor's Bass Opener—then some fish will be caught!