I mostly fish alone unless I can get one of my kids to come with, but they're usually not too keen on the whole getting up early thing.  I don't blame them.  So my wife was quite surprised when I told her I was going fishing with a Facebook friend I had never actually met.  "Are you sure that's a good idea?  I mean…a lot of things could happen…"  "Yeah? Like what?  I thought you would be glad I 'm trying to make new friends."  "Well I don't think it's a good idea to go fishing with someone you've never met. And besides, you don't really like…people."
She had me there.  "That's true", I said, "but this guy seems way less douchey than most, and even though I've never met him, we do have mutual friends…I think the guy might be a cop or something, and judging by his blog I'm pretty sure he's harmless.  The guy is always putting up pictures of big trout, which is more than I've been able to do this year.  But…..if you don't want me to go, I'm sure Gunnar would be up for going steelhead fishing this weekend…and Gunnar did say something about a new strip club opening up, we'll probably check it out on the way home…"
Fast forward to Sunday morning at Eddie's house.  I really needed to break this trout fishing jinx.
I had left the decision as to where we were to go up to him, which is a very odd move for me.  But I've seen his posts, he fishes a lot, catches plenty of above average sized trout, so I'm willing to trust his judgement.  Besides, all of my best spots have been marginal or worse this year.  He said bring a life vest in case we use a canoe, I wasn't sure if he was serious or not, but I brought one with to be sure.  I wasn't even sure which state we would be headed towards, so I made sure all licenses were current in the five-state area, and I brought my passport just in case he had some crazy Nipigon mission in mind.  I was just hoping to get into some good trout fishing, and after a quick chat in his kitchen we had the canoe loaded up and were off.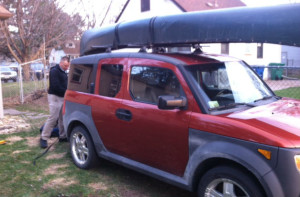 We had a great talk on the way to his first spot, talking of places we've been, mutual people we know, that sort of stuff.  He's been at the trout fishing thing for about six or seven years, and has a crazy exploratory nature. He writes a blog that I enjoy, a lot of you have probably seen it — Eddie Rivard Fly Fishing
Even when I used to fish a lot more than I do now I didn't explore like he does.  It later occurred to me how much easier it is today to seek out new spots with all the info that can be gleaned off the internet.  It became pretty obvious early in our conversation that there were no trout spots I knew of that he hadn't fished and probably caught an 18 incher out of.  He did make a comment about how he had not been able to figure out where "Area 51" was, even though there were power lines in a photo of me with a trout there.  "Area 51" is a Triple Secret Spot of mine that very few people know the exact location of, and I couldn't remember even posting a picture where I named the spot, but it amused me to learn that I was not the only one that would spend hours on google Earth trying to figure out where someone's fish picture was taken.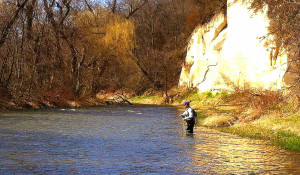 Our day ended up mostly being a series of what I would call "hit and run" spots—park, hit a couple of "money spots", then back to the vehicle.  The first spot we tried had the water pretty high and muddy, not quite what I would call unfishable, but getting there.  I hooked up right away on a nice twenty-incher, which turned out to be a redhorse.  We never decided if it actually ate my streamer or just got snagged in its ample upper lip. No sign of trout, but it was cool to be fishing on water that while it may not be completely secret, it was totally off my radar.
We had a quick look at this unknown creek, Eddie couldn't resist making a couple of casts right by the road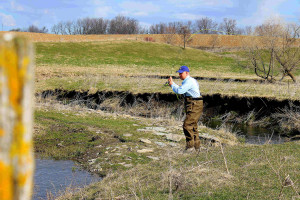 We bopped around and tried a few more spots, but Eddie eventually decided we would need to find some clear water.  And clear water we found.  We ended out our day on a pretty little creek with an abundant population of little trout, and even they proved to be too much for me.  Eddie assured me that he had tangled with some big fish in the creek before and I believe him—there were numerous undercuts and hidey-holes where a big trout could live, just waiting for the next fingerling trout to munch.
So the jinx continues.
I keep saying how good our local trout fishing was in the 90s.  If you weren't around then, imagine this—The Rush is thick with fat browns, mid teen to low 20 inch fish were common.  The Upper Kinni had over 5,000 trout per mile, and the lower had great numbers of 10-16" browns, and it always seemed like there was a hatch.  And no kayakers floating over your fish. Even the Willow had a strong population of trout of all sizes, you could even expect dry fly action most evenings.  There was no internet, no Google Earth, no place to post your reports.  Maybe at the local fly shop, but that was about it.  When Eddie asked me if I had ever fished this spot or that spot, I always had to say no.  The fishing was so good on the home streams that there was no need to explore.  And every time I did go on a mission to the Eau Galle or the Trimbelle or some other similar spot I always had the same result—nice streams, there are fish to be caught, but it just didn't make sense to drive by miles of the best trout water in the Eastern US to explore.
I keep saying that the streams will come back, and they will. But for now it appears that exploring is necessary. There are more good anglers, and less secrets.  In the 80s and 90s the vehicles I had were unpredictable at best, and more than once found me broken down somewhere.  Vehicles today are all good, I never see any beaters parked at the streams, or anywhere else for that matter.  A vehicle that is reliable and gets good gas mileage may be the best piece of trout equipment there is.  Match it up with high speed internet to access resources like Google, the USGS Streamflow Gauges, and DNR websites, there's no good reason to not be able find somewhere to fish.  So I guess I better get busy and find me some good water to fish. I've got a milk run in mind, this weekend or maybe next.
And remember that even the best vehicle won't do you any good if you run out of gas.