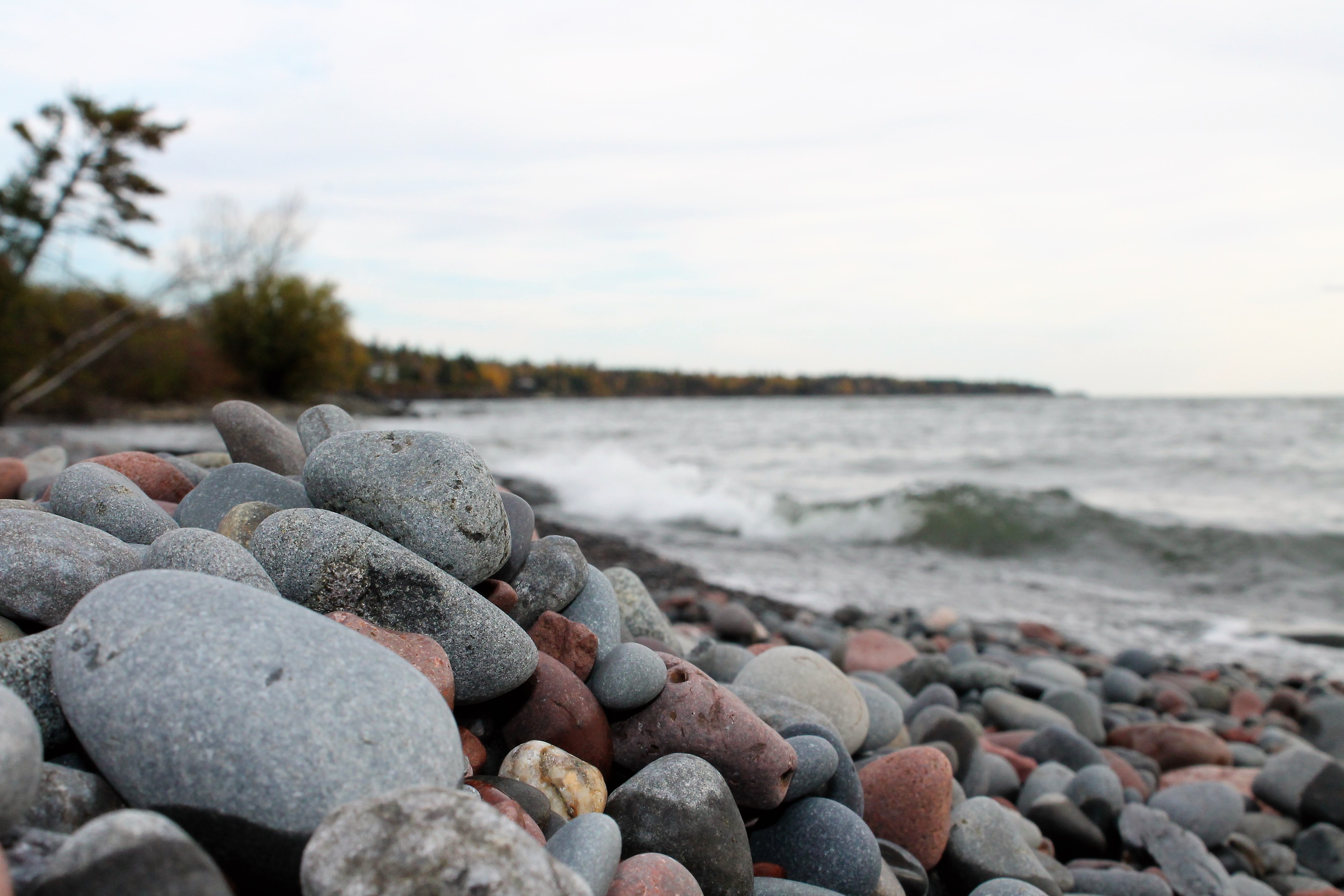 A family weekend for the North Shore was planned for this October. We made a one day up-and-back trip last year.  That was a lot for one day, and while we had a great time I was disappointed that the one-day trip left a lot of sights unseen, and left no chance for any angling.  Put me that close to Lake Superior without and chance to make a few casts and I might surly.     And not the refreshing,  IPA kind of surly [Surley?] either, more like the grouchy, crabby, gonna complain about everything including traffic and restaurant food kind of surly.
This year we would be heading up early Saturday, staying in Grand Marais, and then returning Sunday.  This would allow plenty of time for hiking, sightseeing, and since the mouth of the Devil Track River was only two miles from our hotel, I would have a great opportunity to fish for a couple of hours.  I didn't have great fishing expectations, but anytime spent casting into Gitchee Gumee is time well spent.  Fall is not prime time on the North Shore for any kind of fish except for pink salmon and lake trout.  Pink salmon, [AKA Humpbacked Salmon, or "Humpies"] are pretty small [less than 2 lbs], and fishing in Alaska will ruin Midwestern salmon fishing for anyone.  Lake trout come into the shallows in the fall to spawn, and as a result, lake trout season is closed in October.  It doesn't seem fair that shore bound anglers can't target them during the one month when they really have a good shot at catching them.  Meanwhile the charter boats keep limits all summer long.  C'mon, DNR work with us here.  How about letting us shorecasters keep one during October?  Or just make it catch and release so I can cast at a river mouth guilt free? Maybe more people would gain a higher level of appreciation for one of Minnesota's native trout species [yes fish nerds, I know a lake trout is actually a char].  Sorry, didn't realize I had a lake trout regulations rant built up like that…anyway, despite the rules I expected a lake trout would be the most likely thing I would run into.  There could be a coho, maybe a looper, maybe…. just maybe… a steelhead?  I would have been fine with a laker.  I wasn't going to keep a fish anyway, and while lake trout aren't the glamour fish that some of the other trout/salmon species are, I haven't caught one in quite a few years, and one thing you can say about lake trout is that if you do catch one, take a look at your surroundings—I guarantee you are someplace awesome.
We kept busy on Saturday.  7 AM departure, stops included:
Stony Point [climbing on rocks, looking at waves, agate hunting]
Castle Danger [didn't stop, but was all agreed this was the coolest name for a town in Minnesota]
Gooseberry Falls [typical tourist BS, walked the paths, saw pink salmon spawning]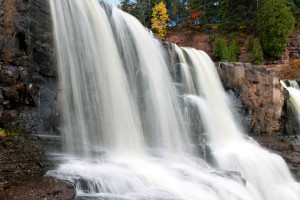 Black Beach [did some rock climbing]
Finland [took a back road route through Finland and Crosby Manitou State Park, hoping to spot a moose.  We didn't.]
Cross River [climbed on the rocks, looked for agates]
Temperance River [walked through the gorge, discussed cliff diving during warm weather]
Oberg Mountain [relatively easy hike to the top of one of Minnesota's "mountains" (elevation 1450 feet).  At every vista from the mountain top the girls would exclaim that the scene below looked like a painting]
Grand Marais [Hotel with pool/sauna/hot tub, ate at Sven and Ole's Pizza.  Since I see so goddamned many Sven and Ole's stickers on cars around the Twin Cities I figures it must be some pretty fucking good pizza if it gets people to put a sticker on their car.  How good would pizza have to be to get me to put a sticker on my truck?  A lot better than S & O's.  I rank their pizza average at best.]
I like this place better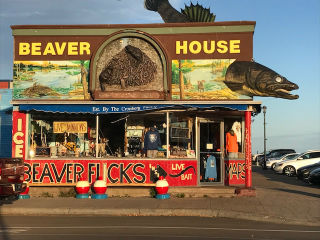 Our hotel was right by the lake.  Close enough to hear the waves crashing in.  It wasn't windy, but the rollers were still coming in.  When I woke up early Sunday it did not look promising.  As I get older I find it easier to talk myself out of early morning fishing, especially when conditions are less than ideal.  Sarah encouraged me to go anyway, so I grabbed a cup of coffee to go and five minutes later I was at the Devil Track bridge.  I had never been to the Devil Track in the fall before, but have tangled with some nice steelhead up in the canyon in the spring, and once caught one on a spoon while casting off the river mouth.  The bridge is only a hundred yards from the lake, and the waves were really crashing in.  Fly casting in that would not be an option, I was glad to have a spinning rod and a box of lures with.  I rigged up the fly rod anyway, figured I would fish a fly down through the lagoon area of the river and then cast the spinning rod into the surf.
I have done a fair amount of casting into Lake Superior over the years, going back to when I was still in high school when a friend and I drove up to try and catch something.  On that first trip I ended up catching a lake trout on a bucktail jig, we watched some guy with a proper surf casting rod catch several in a row on a jointed Rebel minnow bait.  This all went on 35 years ago and a hundred miles away at the mouth of the Lester River, right on the edge of Duluth.  The mouth of the Devil Track River is almost to Canada, and it has a much more wild and rugged feel than the shoreline to the south.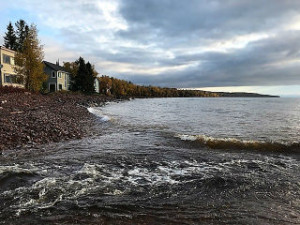 A small flock of mergansers took off from the lake on my approach—a good sign I thought—there must be some baitfish out there.  Where there's baitfish there are bound to be predators.  I shudder when I think of the time at the mouth of the Stewart River when I hooked up on what I thought was a nice laker only to have it end up being a 4-lb. pike. I catch enough of them elsewhere.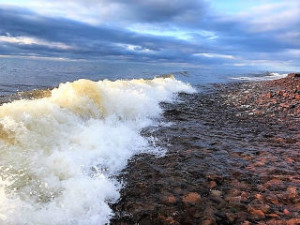 The waves came in waves. Seriously—they were all big waves, but then there would be 4 or 5 in a row that would be really big, and casting a lure out into them was hopeless.  My first lure of choice was a Husky Jerk Rapala. A Husky Jerk has a little more heft than a regular Rapala, good for launching into the wind.  There was a narrow spit of rocks that separated the lagoon from the big lake.  I took a position just off the edge of where the current poured into the lake and began casting.   I was casting for about ten minutes when it happened—the lure stopped with a jolt, I reared back and the rod started doing what every angler loves—it came alive with the headshakes of an angry fish.  As I was fighting the fish, which I assumed to be a lake trout, I now realized that landing a fish in these big waves was going to be a problem.  I didn't want a wave to wash the fish in, causing it to be flopping around on the rocks, so I let the fish tire itself out without getting it in too close.  I got a glimpse of it.  It looked kind of silver.  I got another look at it, is it a steelhead? Can't be!  It came up to the surface and revealed a pink stripe against pale silvery flanks.  It was a steelhead, and a pretty good one at that.  It floated in on a wave and I got it by the tail.  I dropped the rod in the rocks and carried the fish quickly over the narrow gravel bar to the calm waters of the lagoon.  I laid it down in water two inches deep and the fish was well behaved and didn't move a muscle while I unhooked, measured, and photographed it.   I scooped it back up and ran it back over to the lake.  I waded out into the crashing surf, pointed the steelhead towards Wisconsin and in a flash he was gone.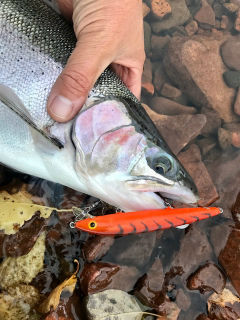 My hands were shaking as I retied.  I couldn't believe it.  Willing to settle for a lake trout, coho, or looper, I ended up with the best prize the North Shore has to offer—a wild steelhead.