2015 — a look back
It seems like I've got it in my head that 2015 was a terrible fishing year for me.  As a dad, a homeowner, a landlord, an employee, and an actual grownup, I sure don't have the time to get out like I used to.  Although part of that is that I don't NEED to catch fish like I used to.  What the heck, Wisconsin trout season just opened, and I haven't even considered going, and probably won't for at least a month.  The fact that favorite trout stream went to crap doesn't help, but more on that later.
And for someone who doesn't "fish that much anymore", I sure do fish a lot.  I was explaining to an old friend, "It's frustrating to not get out much anymore.  I only made it out one night last week, and only one half day on the weekend.  I did go on a short trip out of town the weekend before that, but otherwise…"  Now I notice my friend has a WTF look on his face that says "You still fish more than anyone I know".
Fish smarter, not harder might be my mantra now.  I don't do a lot of exploratory stuff anymore, and really try to focus on what I can depend on.  But I somehow still manage to add some new spots to the lineup, which is good because some old favorites have been way off.  The more you fish, the easier it is to stay on them, and its easier to decide when to make a move if you have plenty of spots to make a move to.
Here's where we launched for smallies one fine day this fall, based on a tip from a friend.  It was a good tip.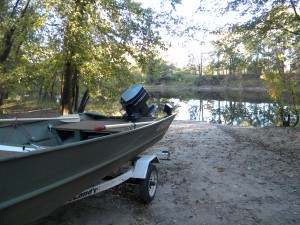 My fishing season usually kicks off in early March, chasing trout on favorite Wisco streams.  It's no secret now that the trout numbers are WAY down, populations have suffered from a few long cold winters and some big floods.  Last opener I managed only a few fish on my first trips, but one was a full sized 20" brown.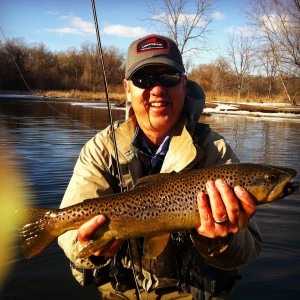 Next on the itinerary was a trip to Sanibel/Captiva, one of my favorite places. Besides going out with a guide one day and renting a boat one day,I got out at dawn a few mornings to harass the snook and stuff that live there and ended up having good fishing each time, and one morning was really great—seriously one of the best fishing sessions I've ever had ever.  Some big snook, a redfish that was ridiculous, and I didn't get eaten or even gnawed on by a shark or alligator.  A manatee came up so close to me that I was able to poke it with just the tip section of a 3 piece fly rod.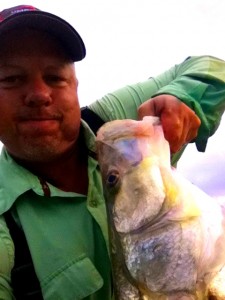 I kept my parking receipts from each morning, the time shown was how long my parking was good for.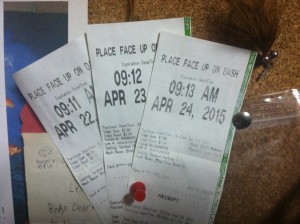 May saw the beginning of the end of a favorite bass lake—Little Falls Lake was drained last year. I got in one last session there in the float tube.  It looks likely to me that the dam will be rebuilt and the lake will fill back in, but I have to believe it will be 10 years or more before the fishing comes back to what it once was.
Summer means smallmouth on the Mississippi, but for reasons I'm unsure of, this was not fishing well this year either, at least not in the Monti stretch.   There were fish to be caught for sure, but you had to work for them.  A big catfish was my most memorable catch from there this year.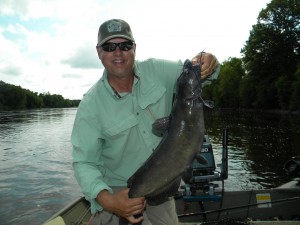 I did take the girls on a camping/fishing trip later in the summer, we had a fine time in the Royalton section.  We're looking forward to doing it again this year.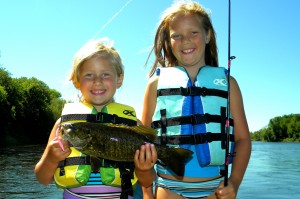 Savannah is my partner is a series of bass tournaments each summer.  When started this two years ago I made it clear that we didn't have to win…but we definitely don't want to lose!  The first year we did pretty good, always came in with a nice bag and were even in the money once.  This past year, ugh.  I'm not sure what happened but we just couldn't get it together.  This year will be better, I just have to convince Savannah that bass can be caught in places other than under docks.
Here is Savannah weighing in our bag at South Center Lake.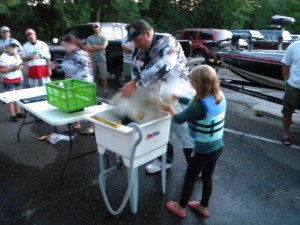 One perk of working in the fishing business is that once in a while you can actually be on the clock while fishing, usually under the guise of product testing, team building, or some other BS.  One such day I was testing out some new equipment for my company on White Bear Lake.  When I had done all the testing that was needed I found I still had an hour before I needed to be anywhere.  It was hot and sunny and calm, not ideal fishing weather, but I somehow ended up with a full-sized muskie on the line in less than ten casts.  I also got a phone call that day that was a job offer, and it is with this new company that I am presently employed.  So to summarize this day– 1.  Got paid to be out on the water.  2.  Caught a big muskie.   3.  Got offered a new job.  I guess this was a good day.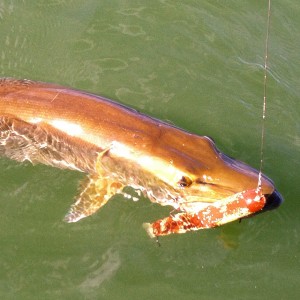 There were other fish, there were great times spent on the water with family and friends.  Agates and mushrooms were found.  Fish were kept and eaten.  There were sunrises and sunsets, campfires, canoes, kayaks, seashells, loons, lady slippers, waterfalls, rivers, streams, and lakes.  I wanted to just mention a couple of highlights, I find myself wanting to add to what I've already got here.  Now that I really look back, there may have been somewhat of a shortage of fish that were caught, but there were as many good memories as a person could ask for.
One friend tells me I am definitely living the dream.  He may be right–I have a great wife, two kids, two boats, a house, a job, and I do get to fish a fair amount.
Here's to 2016, which I see is the year of the monkey.  There must be a joke here somewhere, but much like a school of 4 lb. largemouth, I just can't seem to find it.